UPCOMING EVENT – West African Fall & Winter Mission 2018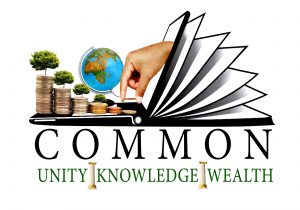 Due to the devastating floods and mudslides which occurred in Sierra Leone in August 2017 taking scores of lives, and after consultation with my Liberian and Sierra Leone advisers because of this event; a decision was made to  change Mission 2018 from June – August 2018 to the Fall/Winter of 2018. This change was made with the safety of our missionaries in mind and to avoid the perilous rainy season that occurs in both countries during the Summer months.  We apologize for any inconvenience caused by this change.
*** INVITATION TO JOIN OUR FALL 2018 MISSION TO LIBERIA, WEST AFRICA ***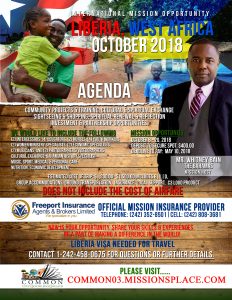 International Mission Effort
"Fall & Winter Program 2018"
October – December 2018
Mission Itinerary
Liberia & Sierra Leone
October 04, 2018 > Principal Logistics Team & other missionaries travel to Liberia
Liberia, West Africa – *** MISSION EFFORT ***
October 08 – 20, 2018 > Missionary Group works in communities of Liberia, West Africa
(Travel on October 04 to arrive on or about October 06, 2018 for 14 days)
Focus:
Community Projects – Library formation, school and orphanage beautification
Cultural & Spiritual Exchange
Sightseeing and Shopping
Spiritual Renewal and Reflection
Details:
Group size: 35 – 50 people
Age group: Adults (Mature teenagers)
Trip Costs: $1,200.00 per person (includes food, accommodation, ground transport, travel insurance, N.B. airfare not included)
Deposit: $400.00 (non-refundable)
Deposit Deadline – May 10, 2018
Sierra Leone, West Africa – *** MISSION MESSAGE ***
November 05 – 30, 2018 > C3 Presentation to multiple districts
Focus:
Common Unity,
Common Knowledge &
Common Wealth
December 2018 … Travel back to The Bahamas
PARTICIPANT INFORMATION
Fall & Winter Program 2018 Details & Kingdom Ambassadors Travel Budget
Missionary Travel Budget
Airfare: $1,500.00 to 1,800.00 approx. cost with fees
Mission activities: $1,200.00 includes food (B,L,D), ground transport, group accommodations, travel insurance, local support team & C3 logo product.
Deposit: $400.00 (non-refundable)
Deposit Deadline – May 10, 2018
Total Missionary Travel Budget: $2,700.00 to $3,000.00
FALL & WINTER PROGRAM 2018 – MISSION INSURANCE PROVIDER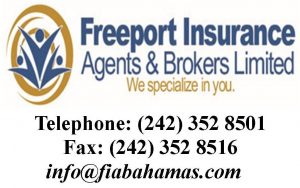 *********************************
Due to the goals of the mission, we are focusing on some specific areas during our visit; and seek to involve some specific persons with particular skills and abilities by which to accomplish these goals.  However, this does not preclude others from attending, who may have other skills or a desire to travel with us.  Those who are passionate about missions and helping persons, locally and internationally; are welcomed and encouraged to join us.  All to the benefit of mankind and for the glory of God!  
Mission Focus/Needs 
Education – library, primary, high school
Cultural exchange – Bahamian History
Music
Sports
Medical and personal care
Nutrition
Economic development
Desired Group Make-up
2 Intercessors
4 educators
2 nurses
4 youth workers
2 women ministry specialist
2 economic specialists
2 musicians
2 photographers/videographers
Please Note: The Whitsun Leadership Group (WLG) reserves the right to accept or exclude persons who it deems are not a good fit for the overall group composition.  It is the aim of WLG to present a diverse group of ministry contributors, who can help in the overall success of the mission.  WLG seeks to promote unity, cooperation and an environment where synergistic relationships will develop.  Therefore, persons who do not represent the ideals and possess the mindset necessary to contribute to our mission will not be allowed to participate.